Update Bill Delivery Preference
To change bill delivery method:
Log into Customer Portal Account and click My Account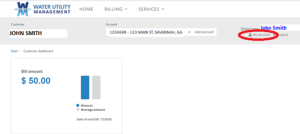 From the left navigation option click

Accounts information

. Click the gear under Actions and select EDIT.

The account details screen will display and you should scroll towards the bottom of the page to

Bill Delivery Method

.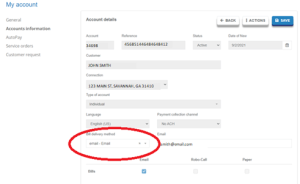 Select the drop down and choose or change delivery method. If changing to email, please make sure correct email address is entered.  An verification email will be sent to this email for you to confirm before changes will be updated.
 
Accessing the New Customer Portal
1. Upon accessing the new Customer Portal for the first time, please follow the steps below to reset your password: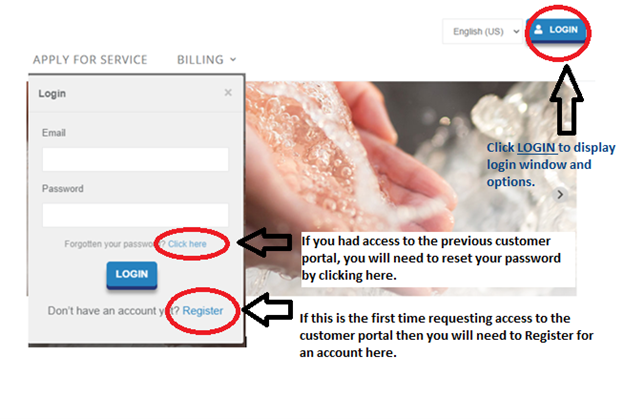 2. If requesting a new password, please enter your email address that was used to access the previous customer portal and then click RECOVER.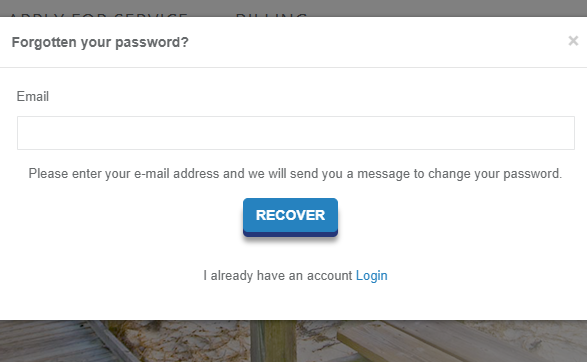 3. An email will be sent to the email address entered that will look similar to the below:
4. You should click the hyperlink (Reset password) in the email and it will direct you to a page to enter your new password credentials. Once new password is entered twice you should then click Confirm.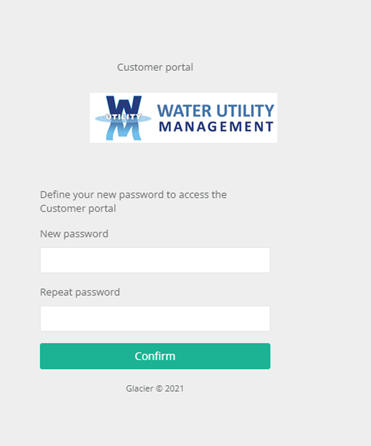 5. ** After password has been reset, you will now be able to log into the new Customer Portal with your new password.  Once logged in, you will need to click Add Account to associate an account to your portal account. **

6. Related accounts should be listed and under the option Non-aggregated related accounts.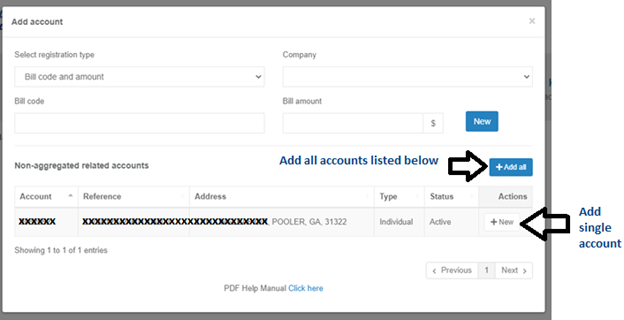 To view other options such as account information, Autopay setup, service orders, and/or customer requests from the customer portal, customers should click My account under your name on the top right corner.

Setting up Autopay
1. Once logged in, Customers will need to go to My Account, then click Autopay from the top right navigation. 

2. Select ACTIONS from the top right of the autopay screen and make a selection of either ACH or Credit/Debit card.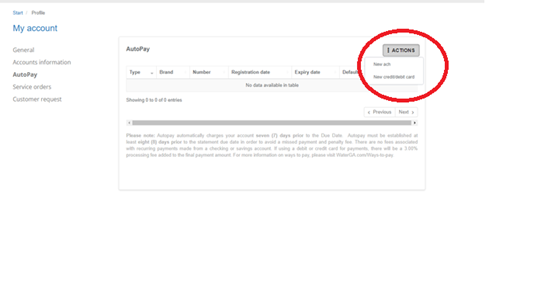 3. If selecting New credit/debit card customers will input their information in a screen similar to the below screen: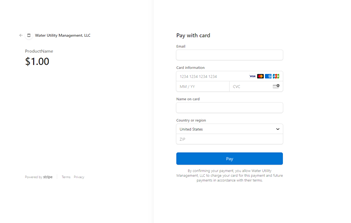 4. If customers select ACH, they will input their information in a screen similar to the below screen.  Customers can click NEXT if they have a file they would like to upload, but if not, they can click CONFIRM.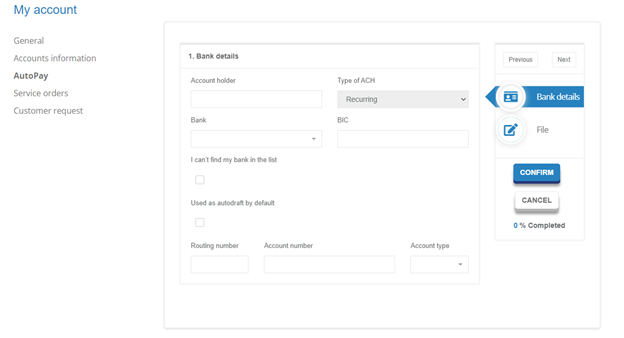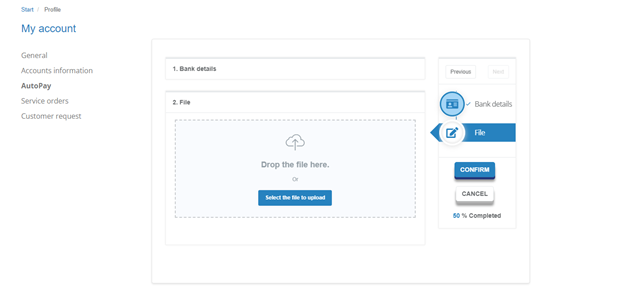 "My Account" Explained:
Account information – Allows you to update customer details, change password, and change default language.
AutoPay – Allows customers to setup autopay payments
Service orders – Allows customers to see any open service work orders that were created for customer account.
Customer request – Allows customers to create requests that will be sent to WUM Customer Care.
Modifying an Autopay source
If unable to modify ACH information, you will need to create a new ACH and that new entry will override the one currently in place (the same applies to Credit Card/Debit Card).  If you would like to completely stop autopay at the time of, you can select the option to DELETE stored payment within the customer portal.
Connecting Account to Customer Portal
At this time, we are asking customers to manually connect their service account to their Customer Portal. Login to the portal, select 'Add account' from the option bar in the upper middle of the page, and enter your 'Bill code' and 'bill amount', this information will need to be requested by emailing CustomerCare@waterga.com.
Account says 'Blocked'
If receiving an error message, "account is BLOCKED", this is happening because you have not setup a new password in the new customer portal.  Select 'Forgot password' and a link will be sent to your email address connected to the account. Customers will then click the 'Reset Password' link within the email which will take them to the correct screen to reset password.    
Nothing Happens when I try to Pay
If nothing happens when trying to complete a payment online, your web browser needs to be refreshed.  Customers can refresh the browser by pressing 'CTRL+F5' or by using a different web browser to access the customer portal, (we recommend Google Chrome).  A solution on our side to prevent this from happening with any future updates should be in place soon. 
What is the New Customer Portal?
The New Customer Portal (Coming Mid-October 2021) is the new and improved central location for accessing customer resources and account information, such as bill statements and past usage on an account. As a customer, you can access the Customer Portal to perform the following actions:
Manage your account and billing, payment, and communication preferences.
Submit service requests to Customer Care.
View past bills for record keeping.
How do I access the new Customer Portal?
Simply visit the Customer Portal from WaterGA.com. For incoming customers, you will need to register your account details to have a Customer Portal account set-up. For existing customers, your account was migrated to the new portal. Use your email address as the 'User ID' and request a password reset to login to the new portal. For additional assistance, please contact CustomerCare@waterga.com.
How to create a new account?
Using the email address on file with Water Utility Management, customers will visit the Customer Portal and select 'Login' and then 'Register'. From there, follow all prompts and enter information to complete your account setup. Contact CustomerCare@waterga.com if you need additional assistance.
Who can access the new Customer Portal?
The customer portal is publicly accessible, however, full features are restricted to current customers with an assigned account number and email address to serve as their 'User ID'.
Where can I find my login details?
Once your account has been setup, simply visit the Customer Portal and select 'Login'. Using your email address on file with us, reset your password to gain entry. For a new account, 'register' with the email address you plan to list on your account.
I forgot my username or password - help!
If you cannot remember your password, use the 'Reset Password' feature. You will need access to the email address associated with your Water Utility Management account to retrieve these details and successfully reset your account password.
What language does the Customer Portal Support?
By default, the customer portal will display all menus and options in US English. Spanish can also be selected as the primary language for the new portal.
How can I report a problem or request an enhancement to the Customer Portal?
How do I get to the new Customer Portal?
Select the 'Customer Portal' tab on the homepage of WaterGA.com. 
Did my account information transfer from the previous Portal?
Yes, customers with existing accounts prior to the new Customer Portal going LIVE have been migrated to the new system. Please note: Confirm that autopay agreements are still active once logged into the new Customer Portal to avoid payment failures or a missed bill. **