**You should continue to boil drinking water until you are notified by Water Utility Management.  It should take 24-48 hours to receive results from the lab, once the water is tested.  We will contact customers by phone, update the website, map, and post alerts to Twitter and Facebook when the advisory is lifted.  Please share this information with your neighbors, in case they have not been reached by us.**
Understanding A Boil Water Advisory
What is a Boil Water Advisory (BWA)?
A BWA is a notification that advises residents to boil their tap water used for consumption (drinking, cooking, making ice, etc.).  Typically, a utility issues a BWA when there is a major repair, loss of power, or a possibility of water contamination.  In some cases, a BWA is issued to comply with the law.   A Boil Water Notice is in effect until laboratory results show that water is safe from bacterial contamination. All water supplied by WUM is chlorinated, which lessens the chance of contamination.  We issue BWAs out of an abundance of caution, and to comply with regulation.
How Much Does Boiling Water Accomplish?
According to the Environmental Protection Agency (EPA), boiling is considered the most effective and the safest method of water disinfection. You may find that boiled water tastes rather flat. To get rid of the blandness, aerate it by pouring it back and forth from one container to another and allow it to stand for a few hours, or add a pinch of salt for each quart or liter of water boiled.
What Should You Do During A Boil Water Advisory?
During a Boil Water Advisory, you can either boil the water or disinfect it before use. Boiling the water and allowing it to cool helps destroy harmful background and pathogens. Disinfected water can be used for personal hygiene such as showering, bathing, or flushing toilets.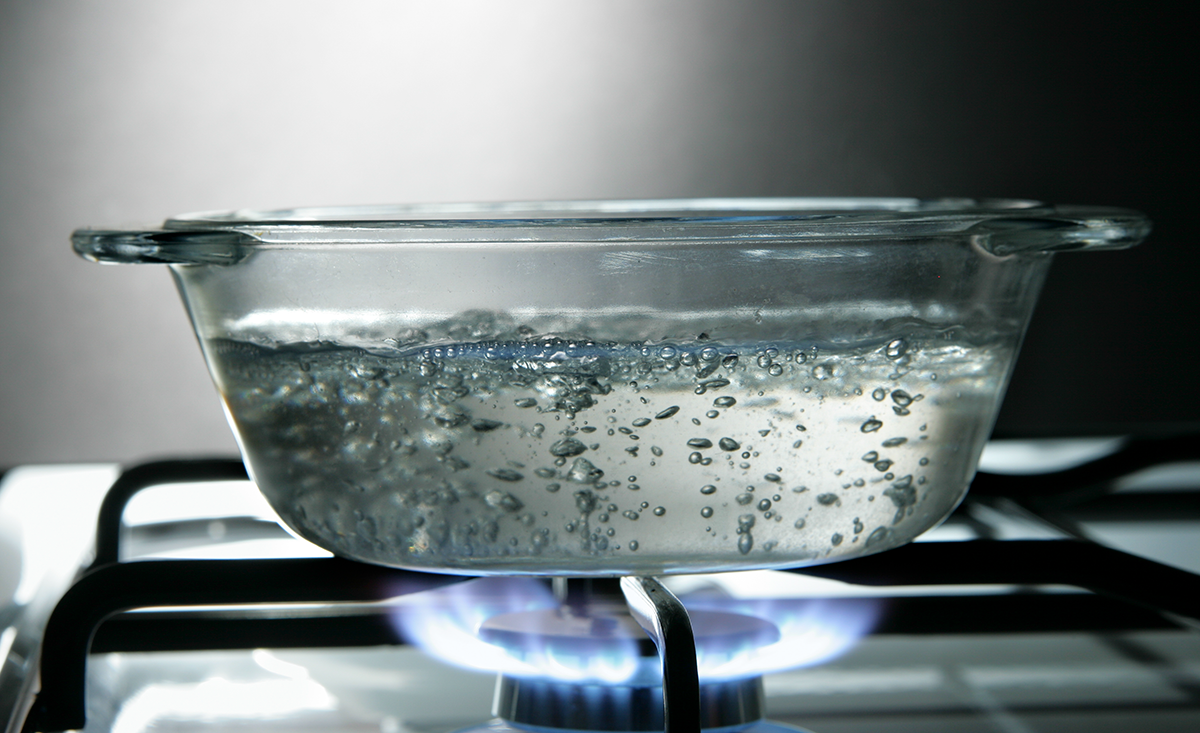 Boiling the Water
Fill a pot with water
Turn on the heat and bring the water to a rolling boil for at least 1 minute
Turn off the heat and let the water cool
To store, pour the water into a sanitized container with a cover
Post Boil Water Advisory – Tips:
Even if water sample test results show that there is no contamination, residents are advised to disinfect or flush water pipes after the boil water advisory is lifted. Clear household or building water pipes or water lines of potential bacteria for your safety and protection.
Here are a few important things to remember Post BWA:
Ice Cube Containers: Empty ice cube containers of ice or water, or automatically discard ice during and after boil water advisory. Restaurants, homes and any establishments making ice cubes must dump the batch of ice within 24 hours, wipe the container with disinfectant and make a new batch of ice cubes thereafter.
Cold Water Faucets: Before using the water line for drinking, brushing teeth, making ice cubes, food preparation etc., make sure it is safe to use and clear from any forms of contamination. Turn on the hot water tap and let it run until water becomes cold. You should also open all cold water lines such as faucets, fountains, showers and water taps and run them for five to ten minutes.
Hot Water Faucets: Turn all faucets to hot water and let it run to flush pipes for 15 minutes, the bigger the water tank the longer time is needed to flush water tap. Once done, hot water is now safe for use when doing hand washing or dish washing.
Dish Washing: As soon as water lines have been flushed, hot water pipes can now be used on the dishwasher. Remember to empty dishwater before using.
Food Preparation: Get rid of foods washed or prepared with water before and during the boil water advisory. Disinfect cooking pots and any cooking items before using them.
Coffee Makers, Food Dispensers and Beverage Machines: Flush equipment like food dispensers and beverage machines with clean water and follow the instruction manual on how to disinfect or clean the machine.
Expect that there may be a lack of water pressure, as well as discolored water, after boil water advisory is lifted. This is normal and will not cause any health risks. Most nearby residents will be flushing their lines and disinfecting their equipment, so these side effects are common.