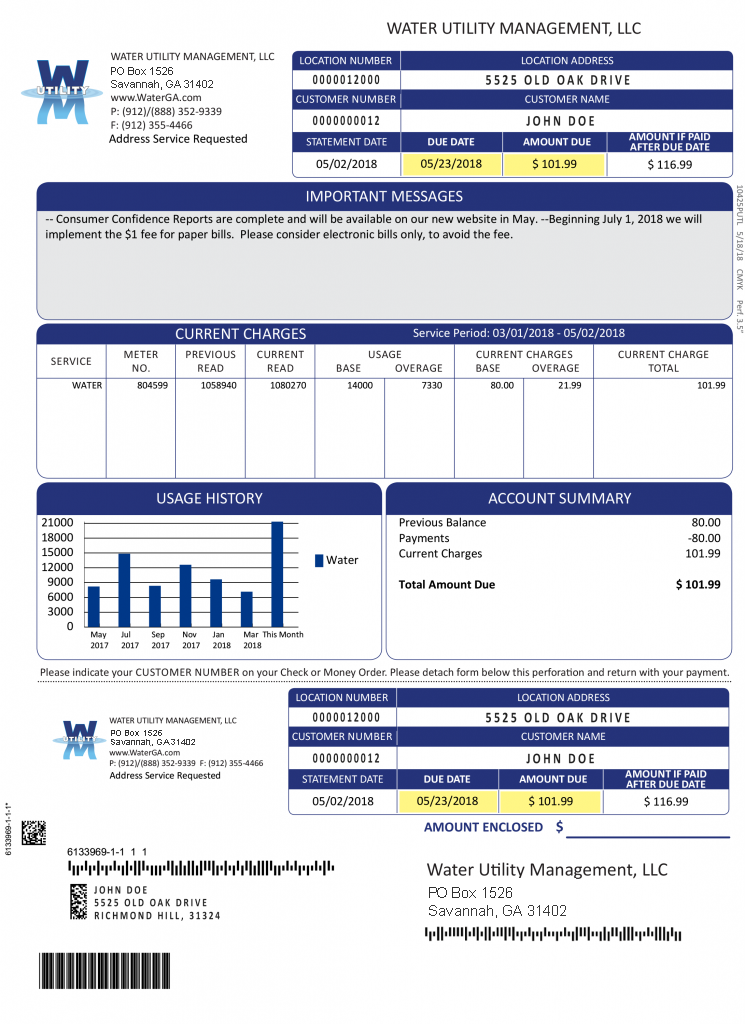 Bill Higher Than Normal?
Download our Leak Check document for more information on checking for household leaks. For account inquiries or additional assistance with an unexpected high water bill, please contact our office.
Helpful Tip:
Read your meter periodically and record the results! This helps with water conservation practices and in identifying water leaks ahead of time.
Location Number
The Location Number is a 10 digit number specific to your service location -i.e. the address where you receive service.  It is unique to that address, and there are no duplicates.   A customer may have multiple locations, if they have multiple properties, or multiple dwellings on a property.
Account /Customer Number
Your Account Number is a 10 digit number unique to you as a customer.  Most customers will only have a single account number, and all their service locations will be visable under this one account.  You will need your account number to make phone or internet transactions with us.
Statement Date
This is the date the bill is printed and sent to the post office.   All due dates, and suspension dates are based from this date.
Due Date and Late Fee
This is a date approximately 20 days from the bill date. Please pay by midnight on this date. If you pay after the due date, a $15.00 late fee is added to the Total Due.
Service Period
These date fields indicate your billing period, which will be roughly 60 days.
Services Provided
These are all services for which WUM bills.  They include:
Water
Sewer
Street Lights
HOA Fees
Trash Removal
Availability
Meter Readings and Consumption
By subtracting your previous meter read from your current read, we determine how much water has been consumed over the billing period. This consumption is the basis for water and sewer charges.
Final Bill
If you are moving out of a service location, we will apply your deposit (if applicable) and mail a final bill to close your service with us. When you request to terminate service, we will dispatch a technician to get a final reading from your meter. Your final bill will use the final reading, and will account for all services and usage from your last bill until the move-out date.
Total Due
We calculate your bill based upon your consumption according to your rates. We add any fees or past-due amounts, and subtract any applicable credits to calculate your total bill.
Total Due After Due Date
If you pay after the due date, a $15.00 late fee is added to your Total Due.